The more we practice yoga, hopefully, the smarter we get about our bodies and how to care for them. Yoga helps us develop an "inner sense" so we can tune into how we're feeling and tune out the distractions. You would think as a yoga teacher, I'd have an even heightened sense of this and on some level I do, but on many levels, I'm just like anyone else, struggling to find focus on the things that matter.
Our health is our greatest resource. What we have of it, we need to preserve. What we use of it, we need to refill with new energy. When we are ill or sick, we learn how much we depend on our bodies and when we are injured, ill or sick due to neglect or carelessness, we often vow to take better care of ourselves once we recover. For many of us, stress is the factor that creates many of the problems we have with our bodies. Whether from money, relationships, work or something else, stress is the central theme for many of our injuries and illnesses.
One common theme I see in many of my students and suffer from myself is stress in the muscles of the upper body. This is compounded by the posture we're in for most of the time, which is hunching over our phones and computers. I often see students standing upright in class, with their heads hanging over the front of the body. One of my favorite cues is to start class in the first standing pose, with eyes closed, cueing students to feel their head perfectly balanced over their bodies. For many of us, we've lost the sensors that help us feel upright and instead are used to dragging the head forward and down. When we think of the muscles that help us stay upright, they certainly must be tired because they're pulled down all the time.
By the same token, the muscles that elevate our shoulder blades, as in a hunching shape, are in constant contraction. This creates a different set of issues, that of stress through constant work, versus that of the "upright muscles," which are in constant stretch. Let's take a look at these muscles.
Generally, when we're talking about the muscles that help us stand tall, we're referring to a group of muscles that keeps our spine tall, the "erector spinae." Here they are: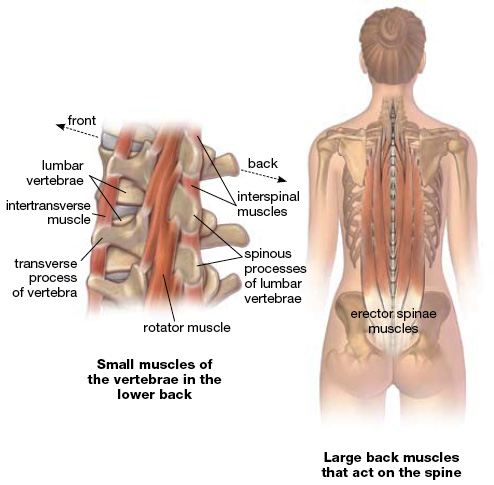 We're focused more on the image on the right but if you look at the image on the left, it's a close up of some of the smaller muscles in between each vertebrae.
When we look at the elevation of the shoulder blades, we're often referring to the trapezius: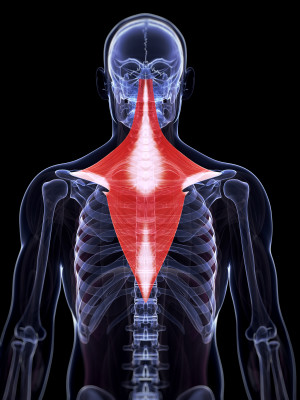 Once we hone in on these muscles, this gives us a chance to focus our practice and our self-care on  the right spots. I've been using massage and therapy balls ( see www.yogatuneup.com for details) to help relieve stress in my upper body. In practice, I often start my students lying on the back with a rolled up blanket in line with their spine and their arms by their sides, palms up. This open shape can help neutralize the affects of hunching all day.
Learning about anatomy helps us as we work to heal ourselves. Understanding anatomy helps us make smart choices for our students. Looking for the connections between the postures we hold all the time and the stress in the body helps us make better choices as teachers in terms of what to offer our students. As always, we need to strive to stay awake and aware to how we feel so we can be on top of our health.