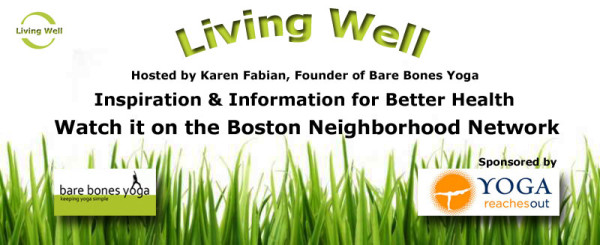 A few years ago, I was on the Boston Neighborhood Network, a local TV station dedicated to bringing the residents of Boston useful content. I was on a show about comings and goings in my neighborhood of Charlestown, MA and after the appearance, had a vision for my own show on health and wellness.
Fast forward two years later and a few other guest appearance on others' shows, and "Living Well," my show on "information and inspiration dedicated to improving your health and wellness" is born! Yesterday, I taped the test show to work out the kinks, get a feel for being on air as the host of a show, dealing with production issues like timing, set changes and above all things, just trying to be natural on camera! Although I make tons of videos for my You Tube channel, I do all of those off the cuff. I think of a topic, set up my camera and go! I never rehearse because I know the content well and I am confident that I can wing it and it'll still come out okay. But all of a sudden, planning content for a show required I write things down. When I made myself a script, I found that in front of the camera, I forgot what I know and started to lean on the script. It was also a little strange because you're talking in a quiet, dark room and all you see are the cameras pointed at you. You can't really see the camera people because it's too dark. It's a rather unnatural setting and your job is to try to be as real as possible. Hard to do!
The plan for the show right now is to have regular segments during the 1/2 hour show and then some changing segments each time. I started with the "Strike a Pose" segment, which is yoga-based, but really will focus on general tips for stretching rather than anything complicated. The show is not meant to be about yoga per se, despite my background as a teacher, but more health and wellness in general. The theme was "shapes you can take to counteract the affects of hunching all day" and my friend Kate Curtis, a fellow yoga teacher, came to help me by doing the actual poses.
The next segment was called "Serve it Up" and in some shows, I'll have a nutritionist on for this segment or some other related professional in nutrition, cooking or related fields. For this test show, I just did it myself and the theme was "healthy breakfast foods from places you go all the time." I had options from Starbucks, Dunkin Donuts and yes, even McDonald's. It was interesting to get the food props and do a segment where the camera panned between me and the food.
For the next segment called, "Inspiring Stories," I interviewed my boyfriend Ben. I would not have done this for a regular show but again, for this test show, I needed some practice interviewing someone. It was so much fun! Ben was born in Vietnam during the war and his whole family except for his Aunt and Uncle were killed. They brought him to an orphanage where he was adopted at 6 months old. They flew him and a number of other kids to NYC and his  adopted parents picked him up. We talked about the injuries he had and how his life story has made him who he is today.
One of the recurring segments on the show will be "Meditation Minute." I wanted something the viewer could do right away, in the moment, to improve their health, and what better thing to do than meditation? I shared the benefits and then did a brief guided meditation. This was a little awkward, especially since I was sitting with my eyes closed, on camera, walking the "viewers" through it. Ben said it was too long and well, you'll have to judge for yourself. ( I'm still deciding whether or not to post this test show on You Tube). I really believe in the idea of doing something on the show with the viewers and will keep this segment but might just make it a little shorter.
I then shared a passage from Deepak Chopra's book, "The 7 Spiritual Laws of Success" on the topic of meditation. It's one of my favorite books and I want each show to have a nugget of wisdom from someone's book or somewhere in popular culture, spirituality or any other relevant area.
I ended the show with a Viewer Challenge. This will be a regular piece of each show. It's a chance to challenge the viewer to take on something about their health and wellness and share it by tweeting with "#livingwellbnn" on Twitter. I really hope to build a community of viewers, both in Boston and outside of Boston, as each show will be posted on You Tube for anyone to see.
The first real show is June 3rd. I'm in the process of planning each monthly show and booking guests. As their are production costs I'm taking on, I'm also looking for sponsors of the show's segments, so when sponsorship contributions are given to BNN, it helps defray my costs of producing the show. I love the idea of being able to say before a segment, "This segment is brought to you by…." and then insert the name of a brand I love. The overall show is sponsored by Yoga Reaches Out, a wonderful organization run by my friend, Sarah Gardner, who, through her massive yoga events, raises money for children's charities. I could not have done the show without her willingness to be an overall sponsor (every show on BNN is run by or sponsored by a NP).
Between now and June 3, it's practice, plan and think of new ideas for each show. Over the next few days, I'll get the link to the test show and again, might share it. It's a bit bumpy so I'm not sure but we'll see. Once the real shows start, there's no going back, as those will be on TV, aired, and also live streamed on bnntv.org.
Between now and the next show, Live Well!