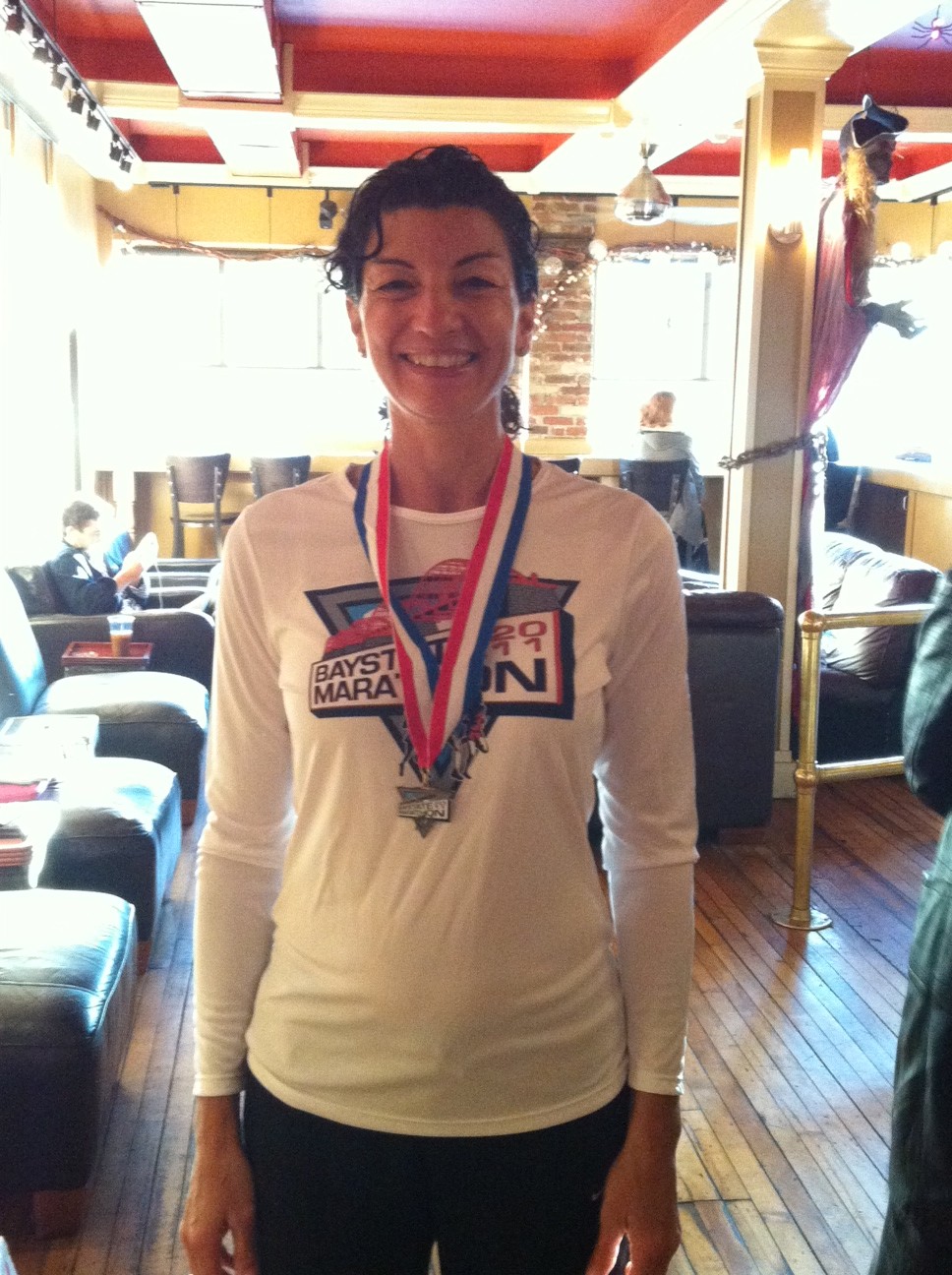 Before too much time passes, I want to get down some of my memories from my running yesterday of the Baystate Marathon in Lowell, MA.  I'm not counting myself out by any means, but after running it in 2008 and then yesterday, I think that might be it for me in terms of marathon running! It was so special, such a wonderful culmination of commitment, passion, athleticism and a little bit of the absurd. Because really, once you're running over 10 miles, things do get a little crazy. Long distance runners will tell you differently, perhaps, but it's a strain on the body. Training will help for sure, but overall, I'm not sure the body was meant to do it. But I did it for the challenge and I'm glad I did.
The weather yesterday, 10/16/11, was perfect. Sunny with a light wind (which would actually pick up once we started. Nice.) I didn't need as much additional clothing at the start, which was great because it was just going to get discarded once I got warmed up. I met my friends that were running and Ali, Olivia and I did a series of yoga poses in the main check-in area to warm up. It was overwhelming to see all the runners and was quite distracting. Doing yoga helped calm my nerves. I just kept focusing on myself and tried not to look around too much. My whole goal for the pre-race hour was to conserve my energy.
My friend Tracy met me at the start. She offered to meet me at mile 21, which no one has ever done for me before. When she offered, I thought it would be great, but I'd later find out how critically important it was that she was by my side. (more on that later). She literally gave up her whole day to support me, leaving at 6 am to arrive before we even started. I was so grateful to her I can't even describe it. She passed words of encouragement to Ali and I, having run marathons before, and we started to assemble at the starting line. I lost Ali somehow, so all of a sudden, I was surrounded by runners and just let myself be swallowed up by the excitement of the start. People turned to their neighbors and offered well wishes for a great race and the race director announced the number of minutes until the start. Pretty soon we were within 2 minutes. As is customary at any sporting event, they played a tape of the National Anthem. As soon as I heard it, my eyes began to fill up. I was so proud of myself for getting to that starting line; all the doubts, the fear, the training, the commitment, the sacrifice. And there I was. I then thought about the country, as I do more and more these days whenever I hear that song. I cried for the problems we have, the people who struggle, the ways we refuse to work together as a nation despite the lessons we should have learned from the past. My heart was heavy with emotion over those thoughts but it was part of the experience. I let the tears fall down my cheeks, sang the last verse and then opened my eyes to see everyone erupt into a final cheer before we heard the starting gun.
The first few miles were really about getting used to running. The pack is big at the beginning, as BayState has both a half and a full marathon. At a certain point, the groups split but for the first half or so, you're in a crowd. Plus at the beginning, people generally are giddy that they are finally running. There's a lot of nervous laughter, fun comments between friends and high five's. Once you settle into a pace, you end up surrounded by people that might run with you at least until the first water stop. On my way out, I had a lot of friends running with each other around me. It always makes me laugh how some people run races and have complete conversations with their friends while running. So, while I was trying to keep track of pace and get into a groove, my mind was getting pulled into a conversation about high school soccer and another about the nursing shifts that the girls that were behind me work at their local hospital. It's all part of the experience and at times can be really nice to have something to keep your mind off running. I actually prefer running by myself and just hearing the sounds of nature and the environment, so I start to get a little anxious if there's too much distracting around me. But that's part of racing; you deal with the hand your dealt, whether it's the weather, equipment failures, injuries; you just keep going.
Baystate's not anything like the Boston Marathon, in terms of a Massachusetts-based race. The course is pretty flat (although don't believe their terms that it's mostly flat; there are indeed hills!) and it's a smaller race with many less runners. However, it is a Boston qualifier, so you'll get some fast runners in the front of the pack. Also, there aren't as many spectators as Boston; there are many times you'll find yourself running with only runners around you. But I will say that I was so grateful for the spectators that were there. Especially the people that just came outside their homes and stood, all by themselves and as we passed, said words of encouragement. My heart was so full of love for them, that they'd take the time to do that, when there isn't even the added distraction and excitement of the rest of the spectators around them. I wished I could have thanked every one of them, but honestly, I was trying so hard to focus that it was all I could do but wave a little to let them know I was appreciative of their support.
By the turn off where the half marathoners break off, things got a lot quieter. I settled into a nice pace and just tried to find my rhythm. My iphone was tracking my miles and pace and I was finding I was staying right on my pace. Nothing too aggressive; 10 minute miles, but it was what I wanted to do and I felt on track to run a 4:45 marathon, which would be my goal. I found that I was regularly surrounded by the same people and you pretty quickly realize who you'll possibly finish with, because you see them regularly around you. There was a couple in front of me, both wearing shirts that said," Run for your Life," and I assumed there was some charity connection there. There was the older woman, clearly in at least her late 60's, that was keeping pace with me without any trouble at all. That, I will say, was both humbling and an inspiration. There was the guy that I swear was running with a full pocket of change and the jingling was driving me crazy. I actually let him pass me and as soon as I did, the peace that was restored was like a jolt of fresh energy.
Before I left home, one of my marathon plans was to think of a few topics to keep me busy along the way. I thought about plans for my business and thought about topics for future articles. I thought about different things I want to do with my life and all of that kept me busy.
We came around the first turn (it's a double loop and then a long final stretch on the back side of the last turn) and you run past a stable. That was the absolute best part. This is somewhere around 9 miles, so I was still pretty fresh. The horses were out and people were petting them. Even though it was across the road, I couldn't resist. I ran across the street and clucked to one of the horses. He lifted his muzzle and I placed a smooch right on his nose. It was so wonderful. I felt so much love as horses are one of my favorite animals. It's hard to really enjoy your surroundings when you run a marathon because you're concentrating so hard. But part of the mental game is to take in some of what's around you so you can enjoy and appreciate it as part of the experience. That to me, was what it was about when I ran over to the horse.As I came up around 11 miles, I heard a large crowd of people yelling to me. It was my friend Ali's husband, Adam, and a group of other friends from the neighborhood! It was so wonderful to hear their cheers and I felt energized again.
I started to get back into the zone and heard another person yell, "Go Karen!" Because our race numbers had our names on them, I just assumed it was a spectator yelling their words of support. But then I realized it was Tracy! She was already out there, waiting for me, even though she'd have to wait for me to run from mile 11 all the way around again to mile 21 and then she'd jump in. What a true friend! She had gone out there to catch me on the first loop.
As soon as I passed Tracy, my iphone battery died. True tragedy! I was using it to track miles and because I have a Nike GPS application, it also connects to Facebook. The neat feature is when people see your run on your Facebook profile, if they "like" it, you'll hear cheers coming out of your phone. It's a little psychological boost. Plus, the phone tracks every tenth of a mile, which mentally is another help. When you're between mile markers out there, it's great to see exactly how long until your next mile will be finished. Plus, tracking your pace is critical in order to stay on track for the marathon time you'd like to have at the finish. So, when the battery died, all I had left was my old-school watch. Not even a running watch, it just had a regular face on it. Not even digital! So, I had to decide at that point what my plan was going to be. My phone also had reminders set to trigger me to eat and drink so I had to make up another plan for that. I decided that it made no sense to get upset; I'd just eat every fifteen minutes and try to ensure I was sticking to 10-minute miles.
I ran around the first significant turn and then settled into the second loop. It's always harder the second time around because you see the mile markers from the first time you ran; they say "6" for instance, but then a little ways up, you see one for "16," which is really the mileage you're at now. Plus, the loop has hills; you also start to see people walking. This point in the mileage is indeed where you start to see people fall apart and that's always a challenge. You try to stay in your own zone but it's hard. The water stations every 2 miles become like a little oasis of support as you not only get hydrated but you get to hear music and get a little boost of encouragement. The water stops at Baystate are staffed by high school track teams and they always have something supportive and fun to say.
I was feeling pretty good around mile 17 and on my second loop past the horse, I saw two colts. That was truly magical. I didn't dare run across the street this time; it was all I could do to stay focused. But just seeing the horses was a great boost of energy. Also, at that point, I heard the guy with the change jingling in his pocket come up behind me. Damn! I let him pass me again and all was well.
I had started at 8 am. I knew Tracy would be at mile 21. I was estimating, with my old school watch, that I'd see her around 11:20. But sadly, 11:20 came and went and I wasn't at mile 21. I also wasn't sure how much longer it was until the next mile marker because I had no mile tracker. I had to just keep going, having faith that I'd eventually get there. And, soon enough, there she was. She was standing in the middle of the road, cheering me on. I ran towards her and she had water for me. I took a few gulps and then we started on. I asked her to get in front of me so I could just have her lead me to the finish. I literally watched the back of her shoes for the last five miles.
At Baystate, the last 5 miles of the course are the worst, in my view. It's fairly flat, but it's wide open. You can look as far as you can see in front of you and you don't see a finish line. All you see is wide-open road. For me, both in 2008 and today, it's the hardest part. Your body is tired and all you need is a little carrot to show you that you're almost there. But instead, they give you wide open road! So, for me, to have Tracy there was great. I watched the back of her shoes and never looked up until mile 26 came.
At mile 26, I heard a voice say, "Hi, Karen, it's Ali!" My running friend and training partner! Unfortunately, I wasn't in any shape to greet her with the enthusiasm I felt so all I could muster was, "Hi Ali. I really can't talk right now." She laughed and said, "That's ok! I just wanted you to know I was here!" She ran past me and her husband, who had joined her for the last 5 miles was there. That was the first time since mile 21 I was actually looking forward, which isn't a good thing. When you look down and run, it can interfere with your breathing but honestly, looking down was all that was keeping me going. So, to look up at mile 26 and see them in front of me, Adam looking so fresh and Ali, my friend, and Tracy in front of me, I knew I had the marathon just about done.
I had wanted to run a 4:30 marathon, which would have meant at 12:30, I'd need to be done. I realized at mile 25, that goal was gone. I actually just focused on getting myself to 12:30 pm, not getting to a certain mile marker and that helped. But once I hit 12:30 and I was somewhere between 24 and 25, I knew my goal was going to be adjusted.
The final .5 miles were tough. I could hear the people at the finish but didn't have any sight of it. There were a few turns; the course volunteers were saying," You're almost there!" but I was so tired! I just kept moving and pretty soon, there it was! The finish line! I found a little extra energy and heard the announcer say," Karen Fabian, Charlestown MA, here she comes!" I looked up and saw the clock: 4:54:27. I made it in under 5 hours! That was my final goal. If I couldn't do 4:30 or 4:45, I just wanted to make it in under 5 hours. Just under the wire!
The rest was a blur. A woman handed me a medal and said "Congratulations!" A race official came up and gave me a warming blanket. I was so happy to see him, I grabbed his arm. He asked me if I was ok. I said yes but honestly, I wasn't sure. I heard Tracy come up. A girl gave me oranges. I started walking to the bag check to get my bag. All the while, I was feeling ok but just really wanted to get out of my wet clothes. I started drinking Gatorade and then decided to go into a Porta Potty to change. This was a bad idea! I had trouble with leg cramps and barely got into my sweatpants and shirt.
Once out into the sun, I decided to lie down. This was also a very bad idea! The blood immediately rushed to my legs. Tracy came over as I was screaming about leg cramps. I fell into her lap and said, "Doctor." The next thing I knew, the EMT personnel were there and lifting me onto a stretcher. Tracy stuck by me, handed me Gatorade and as I continued drinking, I immediately started to feel better. Once in the tent, there were other runners there on IV fluids and getting other kinds of treatment. I settled into a cot. A nurse came over to take my blood pressure. I looked at her name tag. "Grace," it said. The hospital she was from was Mercy Hospital. So her name tag said, "Grace" and "Mercy." I found that so touching because I needed both of those things right at that point in time.
Grace was awesome. Even though she was there as a nurse, she moved my legs around a bit and tried to rub some of the cramps out. God bless her! Tracy stuck by me and gave me food from my cooler. Within about 20 minutes, I felt better. I got up and walked a bit and pretty soon, felt like I could leave.
We walked back to the car and all the while I felt better and better. Potato chips, more Gatorade and time were all that I needed. Once home, I showered and kept eating. I had a lot of healthy post-race food in the house and pretty much just starting eating anything I wanted. I walked over to my favorite local coffeehouse in my marathon shirt and asked my friend to take a picture of me with my medal. That was the last thing I wanted to do for the day. Once that was done, I went home and settled in for the night.
Facebook was a great way to share thoughts about my day; it was so wonderful to see the notes of support from friends. I thought back on the events of the day; I had one last call with Ali and my friend Olivia, who ran the half marathon. By 10 pm, I was in bed and fast asleep.
Marathon training may be hard but it's no harder than putting your mind to anything else that requires training, consistency, hard work and dedication. That can be applied to raising a family, losing weight, eating healthy, making good decisions about your life, starting a business. It's just one expression of how hard work meets commitment and the outcome is always magical. For me, it was less about the actual finishing time and more about expressing my passion for running and the hard work I'd put in to get myself to the finish line.
I'm inspired by the runners around me, inspired by my friends and feel loved and supported by my friends and family.
Peace.