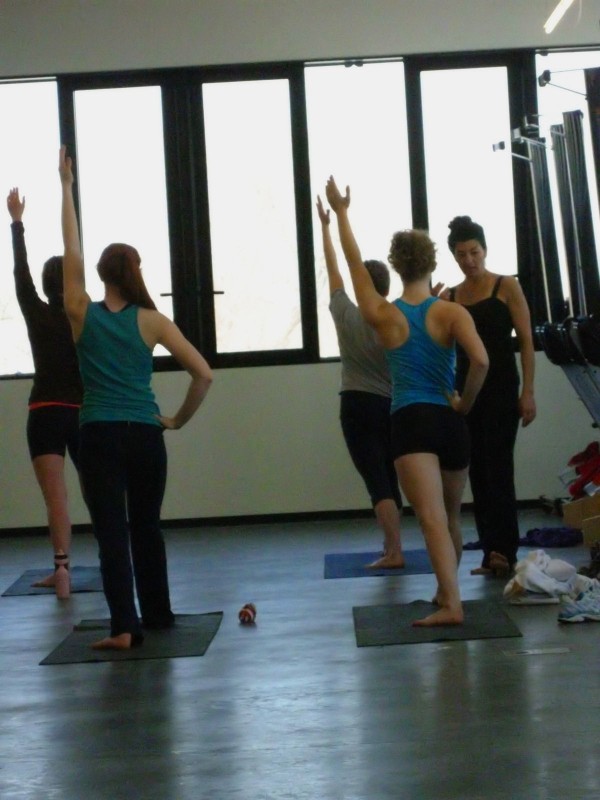 I had a student in class today that was working hard. She mentioned afterwards that she had come from a spinning class and we laughed because the focus of my class today was on strengthening the hamstrings and gluteal muscles. It got me thinking about the pairing of yoga with other types of workouts and what might work well. Here are a few ideas:
Before a short run ( less than 6 miles): a non heated flow class. Flow classes, or vinyasa style focus on getting the blood moving and an overall stretch for the hamstrings, hips, and internal and external rotators of the leg. They usually have a few poses to strengthen the gluteal muscles, a few to work on balance and a few twists. Of course, this will vary depending on the class you attend, but this is usually the general offering. You'll get a nice rest at the end and if you can resist leaving and staying in "relaxing mode," leave from class and head out for your run. You'll be loose and connected to your breath and hopefully, feel lighter in your step.
What to consider skipping: Taking a heated yoga class before the run, especially if it's hot outside. You'll raise your heart rate and body temperature and then as you head out, that'll continue. Depending on how hot the yoga class was, this could potentially be dangerous, or at a minimum, uncomfortable.
The day after a long run: An unheated deep stretch (yin) class: Classes on the schedule listed as "relaxation" or "relax and renew" or "Yin" often combine a series of slow, sun salutations to start and then focus on longer holds of poses that open the hips and shoulders. Poses are often supported with props. These classes are great for anyone, regardless of experience and because they are slower, provide the teacher and student with a little more time to interact in each pose. The teachers usually go around the room and help students adjust their props so as to facilitate a deep stretch. The focus of these classes is to stretch at the level of connective tissues, including tendons and ligaments as well as the muscles. If these classes include a supported inversion, like Legs Up the Wall Pose, even better because you'll need to get things moving and the feet up above the head after your long run.
What to consider skipping: A heated 90 minute power class. Again, it's possible but given the length of the class and the heat, along with the "power" focus, you might konk out about half way through. One strategy to use if this type of class is to your liking is to move at your own pace, resist the urge to push yourself and stay on top of any signs of stress and overheating. Rest as you need to and take a short inversion towards the end of the practice, even if it's not offered ( being discreet and respectful of course).
Before your spin class: A flow class with music. These classes are upbeat and invigorating and with the addition of music, really can get your blood and brain pumped up. The trick is to pair your spin class with the yoga class as closely as possible so you keep that upbeat mood from one class to the other. As you're moving through the yoga practice though, keep in mind that you'll have more to do in spin class afterwards, so take it easy, looking to yoga to give you a good pre-cycle stretch.
What to consider skipping: a super heated (over 90 degrees) class where there is an emphasis on holding the poses in the heat. While this might be great as a stand alone, it's probably a bit much for a pre-cycle workout.
After a week of Cross Fit training: A Sunday night restorative class. Many students put restorative classes on the schedule for Sunday nights. These classes are a great way to relax as your weekend winds down and can settle any nervousness or anxiety you might feel given what's in your week ahead. Also, for those that are working out hard in a Cross Fit training schedule, these classes will give you a healthy balance between the hard work outs of the week and the softer side of training, along with given you the critical flexibility you need to balance all the muscle work that happens in Cross Fit.
What to consider skipping: Yoga classes in between your Cross Fit workouts that can possibly strain your hip, knee and shoulder joints. Given the need to be solid in Cross Fit, for lifting and supporting the body, it's important to create healthy stability in the joints and watch for positions that can strain the ligaments and tendons around these joints. Note that the specific poses that this will include will be different for everyone and it takes a good sense of your own body in order to know what to avoid. Generally, poses that bring the knees into more of a lateral rotation ( think: Double Pigeon), the shoulders into extreme external rotation ( think: poses with lots of binds) and the hips into external rotation ( good to do but in moderation in things like Half Moon to Sugar Cane ) are poses you might do, but proceed with caution.
As with all exercising, yoga or otherwise, it depends on the person, their level of fitness and their ability to exercise with  healthy awareness of the body. As you start to feel little aches and pains, look for ways  you can modify what you're doing or change up your schedule to give your body a more balanced routine.