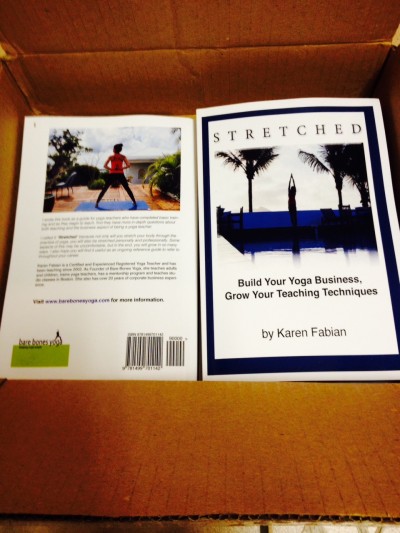 My book drafts came in the mail yesterday! I am so excited to see it in print and I can't wait to share the book with you!
I don't have an exact date for its release but it will be within the next few weeks. I need to review the book in hard copy for formatting errors and any remaining content errors. I've been doing all of the editing and there is always something additional I find every time I go through it.
For those of you thinking of self-publishing a book, I'll share a little about the process for me so far. The first piece was, of course, to think about the subject matter. I knew I always had a book in me but I wasn't sure what aspect of yoga about which I'd like to write. I've written two kids yoga books but they're sitting in hard copy with my scribbled drawings in folders on my shelf. But this one came easier, as I already had all the content (for the most part) from my Bare Bones Yoga Mentorship Modules. If you look at the Mentorship Page on my website (http://barebonesyoga.com/teacher-mentorship-program/), you'll see the list of individual modules people can buy. I do these trainings one on one, so they're highly customized and I can provide them via phone or in person. Each module has a document that supports the training. One day I realized, as I was writing up one of the module documents, that if I put all of them together, it'd make a book. This was the birth of the idea for the book, although at that point it didn't have a name; just a concept that pulled together all the content. This was the start.
From there, I spent about 8 months writing up all the modules that were missing, refining the ones I had written and starting to think about how to get it published. I knew someone that had self-published before, so I contacted her and she connected me to the person that formatted all her content into the appropriate format for submission to Create Space (Amazon's self-publishing division). Kristin Quinn, the owner of Charlestown Yoga, was so wonderful to connect me to her contact, Alessandra, and Kristin's been great in sharing how the process of self-publishing her book, "Misadventures in Mommyhood,"  worked for her.
From there, Alessandra and I worked for several months on the interior content. I did the editing and she did the formatting. Along with that, I was starting to think about possible titles and met with Andrew Davis, author of "Brandscaping." Andrew's book changed the way I looked at my business. His book gave me the data, tools and encouragement I needed to build my business and brand focusing on my customers, creating content that inspires them and providing information and services that are meaningful to them. Andrew was so generous with his time in brainstorming with me and over a series of talks, emails and running into each other in the local coffeeshop, Zume's, the title was born. I wanted something that was one word, and through one of our brainstorming sessions around words that relate to yoga, I hit upon the word, "Stretched." To me, it's the perfect mix of visuals: the person "stretched" in a yoga pose and the teacher "stretched" beyond what he or she thought she was capable of as a teacher and business person. The title was born! We then worked on the subtitle and through a series of conversations, arrived at "Build Your Yoga Business, Grow Your Teaching Techniques." It was important to me to have both the teaching and business aspects represented in the title and subtitle, so the reader would get an idea of the book's focus just by looking at the front cover.
Along the way, I asked through Facebook for test readers to test read the book and provide their feedback. I sent out 12 hard copy drafts and over the next several months, received these drafts back, marked up, commented on and sent with lovely notes that I really appreciated. The input of test readers was critical to the development of the book.
My good friend Debra Ball, co-owner of Zume's Coffee in my neighborhood, Charlestown (MA) has designed book covers before and has an extensive graphic design background. She helped me with the cover design as did my boyfriend, Ben Reese. His photos of me appear on the cover and are from our recent trip to St. Martin in February of this year. Once the front and back cover was designed, I submitted it to Alessandra and she added that to the format we had for the book. She submitted it to Create Space, they approved it and then sent me the hard copy draft.
At this point, I will be doing a final review, submitting any changes to Create Space and then getting the final copy mailed to me. At that point, it will be available for purchase on Amazon. I'll also order a number of books myself to share in person and along with completing the final stages of the book, will begin to plan for the book's release. I want to share it with as many of you as possible in person, so I'm looking for ways to do that. I hope to have a a few local parties where people can have a chance to see the book and hear a little about it and decide if it's something they'd like. Either way, my interest is in sharing the information in it, hearing the questions from teachers and those thinking of teaching and hopefully get feedback and start conversations about what's worked for teachers both on the business and teaching side.
Teaching yoga has been a huge part of my life since 2002 and I look forward to sharing what I've learned and what's worked for me with all of you as well as hearing the same from each of you.
More to follow in the coming weeks!