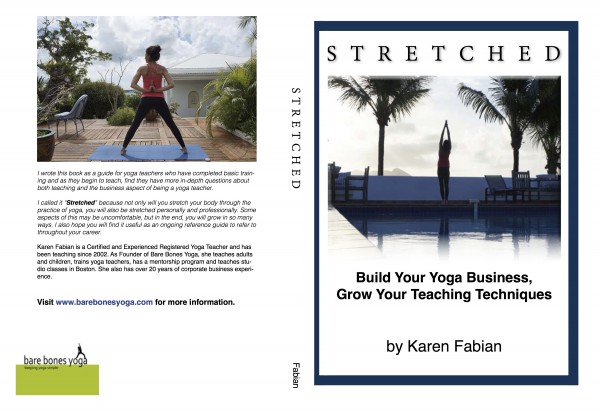 There is something rather terrifying about this final stage of my book writing process. It's been something I've been doing solo for so many months now and to know that it's almost done and ready for review is a lot to process. I'm excited to update you that  the book is in the final stage; in fact, I just ordered hard copies of the book for my final review. I've been working without an editor and self-published the book so it's really been a solo endeavor. I was lucky to find a consultant that used the format I'm using for publishing before so that helped tremendously.
As you can see from the cover, the title of the book is "Stretched: Build Your Business, Grow Your Teaching Techniques." I wanted a title that would reflect not just the physical act of stretching, which yoga teachers certainly do a great deal of, but I also wanted a title that would imply that you'll be stretched in other ways as well when you're a teacher. This has certainly been true for me, as I've learned so much about entrepreneurship, networking, running a business, finances and then all of what I've learned and continue to learn about the teaching aspects of yoga.
I will update you further as the weeks ahead progress; I believe it should be ready by the end of the month!