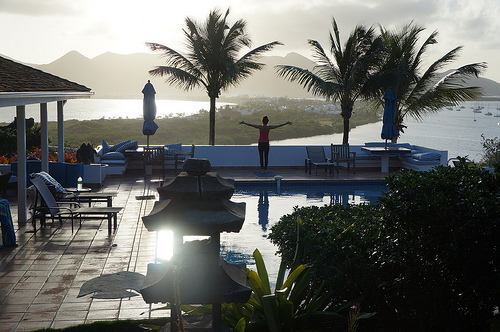 I taped my show, "Living Well" yesterday. It's a show that airs on the Boston Neighborhood Network and I also post the shows on my You Tube channel, since BNN is available to Boston viewers only. One of the station staff members asked me about my upcoming yoga retreat. He'd seen my posts on social media and was wondering about what happens on a retreat and if it'd make for an interesting segment for the show.
Once we got to talking about it, I thought it might make for an interesting blog post too. When I went on my first yoga retreat in 2002 it was before social media was all the rage. In fact, our cell phones didn't work when we were in Mexico, nor did they work for my second one the next year when I was in the mountains of Montana. I remember thinking as I was going through  the training that it would make for an interesting documentary to follow someone as they go through the process that is involved in going away for a yoga retreat.
So what kinds of shifts can happen when you go away for a yoga related trip? Let me share some of the possibilities with you:
The first thing that can happen is a huge sense of relief. We don't make or take time for our health and that's just a fact. We are all overworked, overstressed and overstimulated. And, if we're not, we're most likely in the minority. So, for most people, coming to the decision that we will go away to invest in our health, once we've made the decision, can bring on a huge sense of relief. We made it! Once we get there and start participating in the activities offered, we can often feel a huge weight lifted off our shoulders.
I can share a vivid memory from my last retreat/teacher training to Spain in 2012. After I got there and got settled, when we did our first yoga class, I actually found that I cried at the end. I felt such gratitude to myself and the universe that things had come together to allow me to go, that I cried tears of relief. It was a huge weight lifted off my shoulders and a feeling that I maintained even when I returned home.
The second thing that can happen is we can feel really good that we challenged ourselves to break the status quo. Believe me, I love routine. I love it so much I find myself doing the same things, eating the same food, arriving places at exactly the same time every day! Routine is great but it's safe. Going away, not knowing what will happen, not knowing what the environment will be like: this can be scary for people. But once you're there and things are underway, having a new routine is refreshing! It can give us a sense of accomplishment.
Even though technology is everywhere these days, retreats can give us a much needed break from it. Going away gives us a break from our everyday routine of social media, TV and the news. I remember upon returning from each of my trainings, I'd given up more and more of TV until at this point, I'm only really watching the news and one or two shows. Also, taking a break from the constant stream of  media is a wonderful stress reliever.
Our bodies love the daily yoga, meditation and healthy food. Being on the go all the time means eating on the run and skipping exercise. Going away for a retreat and having its main purpose be your health is a great way to feel the positive effects of regularly investing in yourself. The reality is for many people, it's the jump start they need so that they can maintain it when they return home. That soreness you feel will be soothed when you go into the ocean, nature's best healer.
When we go away on a retreat, the mixture of all the ingredients can help us realize things about ourselves, our lives and changes we might want to make. Look, we all want to improve in some way. I don't know anyone that's 100% happy and satisfied with their lives as they are. Going away on a retreat can give us some time to take a step back. Journaling exercises, meeting other people, being open to talking about things with others, spending time in silence; these are all things that can help us come to realizations about changes we may want to make, new directions for our careers and maybe even shifts we want to make in our personal relationships.
If you're thinking about taking some time to go away, please consider coming with me to Mexico in May. Details are here:
Yoga Retreat To Mexico, May 2016
Namaste.