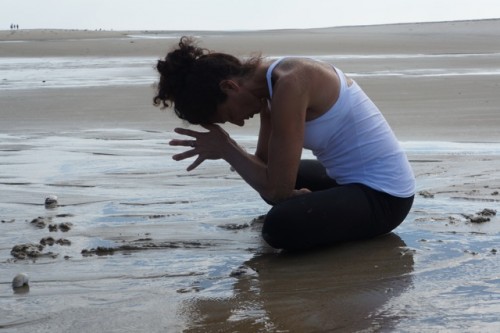 I love watching American Idol. I particularly enjoy these past few seasons with the current panel of judges: Keith Urban, Jennifer Lopez and Harry Connick, Jr. Now, before you go, "Ick! What does this have to do with yoga?" Hear me out.
Depending on how strong your constitution is, the idea of "Staying in Your Own Lane" might be foreign to you. If you're really strong willed, highly confident and unaffected by external influences, then it's most likely not something you need to embrace. But, if you're more like me and sometimes wonder, "Am I staying true to myself?" then this might resonate.
There are a few phrases the AI judges use that apply well to yoga teaching. Things like "You really made it your own," or "You stayed in your own lane, despite what the rest of the pack is doing," all make sense when you think about teaching (they used this one last night). If you try to be like someone else, you'll fall flat. The students will feel it. This often happens when new teachers emulate their mentors. I did it, we pretty much all do it. It's the "imitation is the highest form of flattery" syndrome. But at some point (earlier for some people than others) we start to express ourselves in a more authentic way.
But in this world of social media, it can be challenging to embrace the "stay in your own lane" mentality. We're hit with non-stop images of what everyone else is doing. When some people see what others are doing, they criticize it, even if the person is expressing themselves in a truthful way (while distasteful in any industry, it's especially distasteful in yoga). Unless you're built like a rock, it can be easy to let some of this get under your skin. You might question the direction you're going in or how you're expressing yourself. In this world of "build your own brand," how do you stay committed to your true way of expression?
Whenever I feel myself straying off course or questioning my direction, I meditate on the mantra, "Stay In Your Own Lane." I love this nugget of wisdom. It says to me that if I listen to my heart, I know the direction in which to go. I can be strong and confident, knowing that my goal is not to try to be like anyone else, but to be my best self. On a tactical level, I can avoid things that create stress or minimize my exposure to them. I can do my best at everything I do. I can look for ways to share quality information. I can look for ways to be of service. I can push myself to define clearly, in my own mind, what makes me unique. The more I can do this with myself, the better I can share it when I'm asked.
So, back to the American Idol idea. If you watch the show, you know what it's like when someone comes out and tries to sing like someone else. Imagine trying to sing, "I Wanna Dance with Somebody," Whitney Houston's signature dance tune, trying to sound like her? This would definitely fall flat. But if you do it in your own way, like the contestant last night, your true self will shine through. If you stick to what you do best, like staying at the piano, singing a slow, thoughtful tune, you'll win over the judges and they'll remark that even though your competition is jumping around the stage, you stuck to your guns and did what you do best: a more quiet song, sung without all that obvious energy.
Branding, marketing, providing content, building a following: they must be based in truth and authenticity. Without that, you're building your house on sand and your brand on a house of cards. But even more importantly, outside of the business aspect, trying to act like someone else is a waste of energy. Be yourself. Find the joy in that. Wrap that around you like a warm scarf or a hug from a best friend. For when you live your life in that way, we all get to enjoy the expression of your true self.
Namaste.