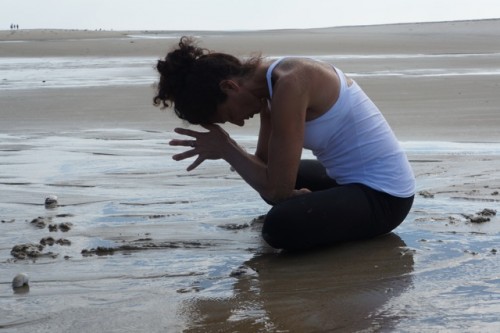 One of my favorite private yoga students used to come up from Shavasana (resting pose; the last pose in the practice) and he'd always have a revelation. It could be something about his personal life but it usually was about his business. We'd meet on a weekday and he would usually see me midday so it was common that he had peeled himself away from the office to get to me. His head filled with business issues, thoughts and ideas, it would take him a while to settle into his breath. But when he did, it was the magic bean that would allow deeper thoughts to sprout.
I had a student recently share some  personal thoughts that had come to him during practice. A blend of observations about his physical condition as well as things going on in his life, he was noticing things as they arose during practice and afterwards. His practice was giving him a clearer perspective so he could begin to take better action in his life.
What is it about yoga that allows us to hear ourselves better? It can be attributed to a number of things. The first is the focus on ONE thing. We are conditioned to multi-tasking all the time. As we move quickly through our day, juggling tasks, calls and meetings, we don't have time to "hear" ourselves. Our yoga practice asks that we do one thing; practice. As we do that, we start to hear our inner voice.
The second aspect of our yoga practice that often gives rise to deep thought is the act of meditation. Even though we're moving, we're doing so in a rhythmic way. We're moving and meditating at the same time. We're focused on our breath. This allows for the stimulation of our relaxation response and with it, thoughts have an easier time arising. Deepak Chopra, in his wonderful book, "The Seven Spiritual Laws of Success" talks about the fertile soil we create when we meditate and in that fertile soil, we can plant the seeds of intention. Whether it's intention that we plant or revelations that arise, it's the practice that sets the tone for these quality thoughts to occur.
There is much for us to learn about ourselves and much that our body is trying to tell us. We know this to be true when we ignore a physical symptom for weeks and then we have a tragic collapse or significant physical setback. While recovering, we have the perspective to see in hindsight that our body was trying to tell us something all along. In other parts of our lives, we may be struggling to find an answer and working through the issue from our heads rather than listening to our hearts. There are times we may be in practice and the teacher will ask us to place one hand on our heart and one hand on our belly. I love when I do this and love to teach it because it connects us to the 2 key parts of our body that are prime sources of information: our heart and our gut. Even have that feeling in your stomach that something is not quite right but you go forward anyway? This often ends in disaster and again, in hindsight, we often can reflect back on that uncomfortable feeling.
We often come to our practice with physical needs in mind. We want to stretch, strengthen and relax. We might not even be looking for anything deeper to come up. It might be enough for us to work the physical aspects of the practice. But in those times where we least expect it, our deepest thoughts may appear. If we're open to listening, there is much we can learn.
As you approach your mat in the coming days, listen closely and stay open for what may arise. Maybe there is an answer buried deep in your soul.