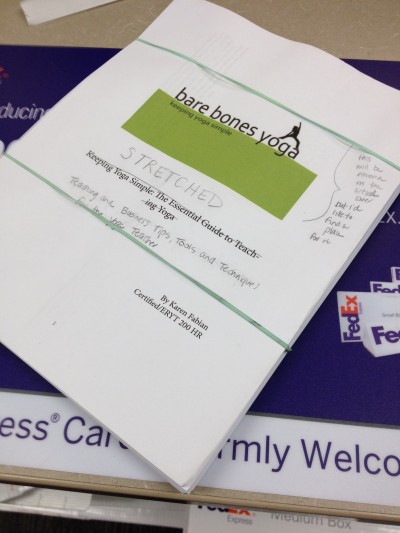 Here's a shot of the latest draft of my book. I sent it yesterday to the woman who is formatting it according to Create Space guidelines. Create Space is Amazon's self-publishing division. This has been a long project in the making and I've been working by myself to create all the content and subsequent editing. I'm grateful to a number of test readers who have the first version of the book and they're in the process of reviewing it now. I just received one of the edited copies back from a test reader the other day. It's neat to see the comments on the draft. I am really grateful that people are willing to take the time to read it. So far, the feedback on the draft has been good, which is nice.
The topic for the book is both the business and teaching aspects to being a yoga teacher. I wanted to be sure to include business topics because there is so much to consider and manage when you work as an independent yoga teacher. It's a bit different from owning a studio and my book will focus primarily on the issues and considerations for the independent teacher (although there are still pieces that  studio owner would find potentially interesting). The teaching topics cover everything from working with beginners to creating themes for your class. I tried to cover as many things that would come up once you get out of training and start teaching.
I also included a chapter on basic anatomy. Teaching anatomy to yoga teachers has become one of my ongoing passions and I'm specializing it in more and more. My classes have taken on a strong anatomical focus as I've shifted my teaching over the years to merge more with the trainings I do for teachers on "Anatomy for Yoga Teachers." I really enjoy bringing this focus into class.
I'm self-publishing the book because it's an accessible process. I'm enjoying the process of seeing it develop and hope to have it done by the summer! Stay tuned!