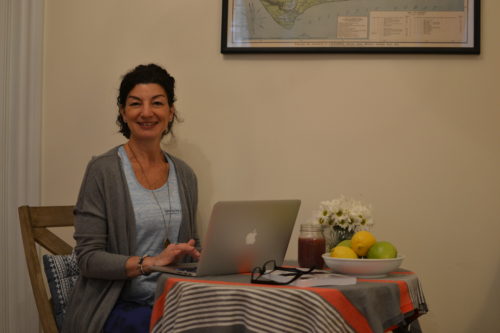 Last week, I mentioned to my mailing list customers that September was "Back to (Yoga) School month and every week, I'd be blogging about a different training topic. 
Last week's post was a high level anatomy lesson and this week's post shifts to the business side of yoga teaching. Now, before I get going on the blog post itself, let me address the title of the post: "How do I make money as a Yoga Teacher?" I want to start this discussion out with an acknowledgement of this aspect of teaching, along with the acknowledgement that perhaps you feel conflicted about making money for teaching. My thought is that for every yoga teacher, there is a different background and story as to why he or she teaches. For every teacher, there is a different personal and financial profile. So, for each teacher, the issue of whether or not you depend on your teaching income to make a living, will vary from person to person.
Also, I don't recall reading anything in yoga theory or history that indicated that it was wrong for teachers to make money from teaching. And, additionally, I know that in my years of teaching and as is the case for many of my colleagues, there have been quite a few yoga teaching gigs which have been done gratis as part of an event for children, let's say, so there is sometimes a "pro-bono" aspect to teaching.
So, having said that, take a moment to decide what your yoga teaching means to you from the financial perspective. For instance, in my case, I am a solo breadwinner, with no regular assistance from anyone else in terms of a significant other. I depend on my yoga teaching, mentoring, public speaking gigs and associated product sales as my sole source of income. I supplement my teaching with a 20 hour per week barista job but my main source of income is from teaching. Your situation might be different. Other models include:
Teaching while working full time
Teaching while working part time
Teaching while not working, supported by another source of income and teaching for fun
Teaching as your sole source of income.
There might be other models but these are the scenarios that come to my mind. It's helpful to start from this reference point because it helps you determine how important it is for you to:
Get paid
Get paid what you're worth (your decision, not their's)
Have an active pipeline of business opportunities
Make decisions about building your brand, developing products, etc.
Have a full teaching schedule
Also, it's helpful to understand where you see your yoga teaching fitting into your life. Maybe you love your full time job and just want to teach a class or two each week on the weekends. Maybe you love teaching and want to craft a (pragmatic, detailed, smart) plan to leave your full time job eventually to teach full time. You might fall somewhere in between but in any event, it's helpful to know where yoga teaching fits in your life from not only the financial point of view but from a quality of life/dharma/passion point of view. I can recall reading Elizabeth Gilbert's book, Big Magic, where she talked about making the shift to full time writing after the success of Eat, Pray, Love and how it terrified her because she didn't want to burden her passion with the need for it to also be her main source of support. I will say, if you love teaching yoga, think about how things might shift if you HAD to teach yoga in order to support yourself and you loved teaching but could not get enough work. Or, maybe you begin to resent teaching full time because you miss the "doing it because you love it" factor that somewhat goes away when it's your "full time job." These are all good things to think about before you leave your full time job.
So, with that as a backdrop, (and to prevent this post from running too long), let me share some high level tips on how to make money as a yoga teacher. I will say that there is much more detail on this in my book, "Stretched: Build Your Yoga Business, Grow Your Teaching Techniques". 
Know your rate. I can't tell you how many times I get emails from teachers who got a "cool new opportunity" but they don't know how much to charge. For the one off request, I can see that's possible, but everything should be based on a base rate that you know and share without hesitation. Think of it as an hourly rate and then it's easier to work with as people request workshops or special events. Include additional fees if necessary for parking, travel, lodging, etc. The best place to start when it comes to making money as a yoga teacher is to know your worth and your rate.
Know when to accept less than your rate. The answer to this may be "never." Or "sometimes." It could be you have a chance to work in a great studio and you look at the gig as a stepping stone. It could be that the free class you're offering will get you good exposure to influencers or the community where you do business. It could be that you wish to drop your rate or do it for free because you believe in the cause (kids, other various charities) so you're willing to do so. It could be as simple as you really need the work so you're willing to accept less than your standard rate. If this is the case, see if you can set up a 6 month review with the business host/client contact/ studio owner to re-review things.
Teach classes. This continues to be the main way teachers make money. You'll look for studio classes and negotiate (or not) with the studio owner for the job and the rate. This is the main staple for most teachers. The reality is there are a huge number and ongoing influx of new teachers so finding open classes to fill is quite hard. Use your personal network to help you find gigs as well as online listings on CraigsList and Indeed. Contact studios in your area but in my experience, unless you have gone through their teacher training, it can be hard to get hired.
Looks for gigs outside the studio system, create those opportunities and set your own rate. This applies to things like private yoga, corporate yoga, special event yoga, wellness presentations (not yoga, perhaps meditation training, stress management workshops, etc) and educational workshops through your local education center. These opportunities can expose you to a whole new group of people that otherwise might not go to a studio (intimidated) and because it's outside the studio system, you can set your own rate. Often, studios don't have a lot of wiggle room around teacher pay and so you might not have as much of a chance to get your own rate. This is part of the industry and you need to understand, accept and respect it. If you don't feel the rate you're getting meets your needs, you can resign that teaching post and look for another or just accept what you're paid.
Build an online network, a mailing list and a social media following; define your niche and create free offerings of value and products to sell. Through digital marketing techniques, you can use things like webinars, blog posts, Facebook live, social media posts, free e books and other things of value to share with people who are interested in your niche area in yoga. For me, my niche is yoga anatomy and yoga business. I create products like online courses and have written several books and manuals. I provide a regular schedule of free content online (webinars, blog posts, downloadable worksheets) as a way to identify who out there is looking for information on these two specific areas of yoga. I share lots of free content and also offer products as well. As people develop a familiarity with me through my free offerings, they sometimes purchase a product.
Workshops/ Trainings/ Events (for pay): This is another mainstay of the yoga teacher experience from a financial perspective but you may find you have varying degrees of success in getting critical mass to come to your events. These kind of in person events should be set up with a cost/benefit in mind (again, how much depends on how much it matters to you). So, if you depend on your yoga income to support yourself, you might need to set a minimum number of people that you need in order to hold an event so that the work of prepping for it and marketing it and doing it works out in your favor when you get paid. If you take 5 hours to plan a workshop and 3 hours marketing it over a period of 6 weeks and one person comes, that might not be a good ROI for you.
Let me add here, in full disclosure that I have taught a workshop to one person, in fact, within the past 6 months. I have also taught a class to one person, in the past 6 months. In the case of the workshop, I didn't set up a minimum beforehand (which was a choice that did not work out) and in the case of the class, it was an odd scenario on a Friday summer afternoon       (we've all been there, I'll bet). I can say in BOTH cases, I loved doing it, I developed a great relationship with the two people involved and they regularly come to my classes now. Again, money isn't everything but I want to be straight with you about the factors you should consider so you're making a choice, not just flowing with wind. Know what I mean?
I hope this was helpful. Feel free to comment or email me with questions. If you like this post and want more information, get my book. It covers all this and more.
Thanks for reading!