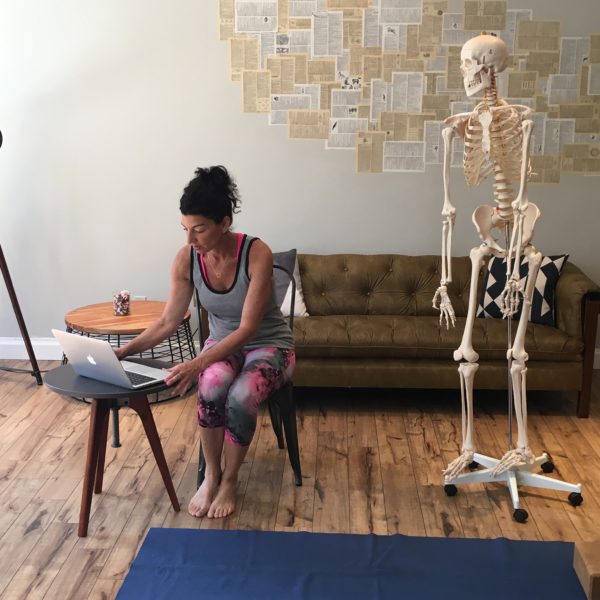 A few days ago I listened to a podcast interview with someone sharing a business idea for yoga teachers. In the podcast, there was some conversation about the challenge and headache for teachers to set up classes on their own. While most of the classes I teach are in studios, I have hosted classes and events on my own as well as privates and workshops. It's actually easier than ever in today's world for teachers to do their own thing and host classes on their own. I thought I'd share some of what I've done in an effort to give you some ideas for what you might do (also, there's a special download at the end of this post, so don't miss out!)
Let's go through this in terms of the different issues involved:
Location: This is usually the hardest part. The most common place for you to host a class is a yoga studio. This is also the hardest place to get because they are running their own classes! However, if you have a smaller studio nearby that doesn't run classes all day or are open to hosting a class on an "off" time (let's say, 3 pm on a Sunday), you can find a slot. Contact the studio to see if you can rent it on  your own.
If you're looking to teach a corporate class, ask the company if they have space.
If you live on one of the cities that Breather is in, use them. I just used them to tape one of my online anatomy courses and the location was amazing! It's an app based start up company and they provide very cool, furnished spaces for companies to use for one-off events and trainings. They are absolutely appropriate for yoga as well. The one I used in Boston actually had yoga mats too.
Google different search terms for "renting space" in your area. In Boston, we have a few places that are available and they're not always what you would think: libraries, community halls, dance studios and some others pop up in the search results.
Payment: This seems to be the challenge for people in that they aren't sure how they'll take payment. I bet there are even fancier options than what I'll suggest here but here is a list:
Cash: Yup. Remember cash? $20 bucks a head or some other round number. Cash at the door. Make sure you tell students beforehand and include it in your promotion.
Square card reader: This device has changed my business. I can now take credit cards for privates and for selling product at events. They take such a small percentage of the sale that it's definitely worth it. Contact them to get a free reader mailed to you although I think they offer it in person as well as some retail locations. You simply plug it into your phone and swipe the card. Behind the scenes, you set up an account with them and connect your bank account to your Square account. Within 48 hours, they deposit the money into your bank account. That's it. Easy!
Pay Pal: I use them for invoicing via email but I believe they also have a card reader option too. I use this if I don't have an assistant with me for my workshops and I don't have time or don't want to get caught up in swiping credit cards. I have a form the students fill out and they indicate what they bought and their email. That's it. When I get home I email them an invoice. The downside of this is you are not paid as quickly and you sometimes have to follow up with people if they do not pay in a timely way. I also sometimes have trouble with my email from Pay Pal going to their spam folder so if you can do it, use a card reader at the time of the sale.
Event Brite: I have not used them before but I have attended events that were organized through them. This site allows you to track invitations and take payment online. I would suggest this more for the one time, larger event.
Liability: As a yoga teacher, you have liability insurance already ( you do, right? Because if you are teaching and you do not, you are taking a big risk). I'm going to forgo the conversation about teaching insurance because it's just a no brainer to get it and it's not very expensive. This covers you in the event something happens while you are teaching to a student as a result of YOUR teaching. It does not cover anything related to the location, so let's say they were injured when they came into the studio ( they tripped, for instance). That would most likely fall under the carrier that provides coverage for the building you are using. But for the teaching aspect, which is what teachers are mostly concerned about, your insurance should cover you ( keep in mind, they have to evaluate and accept the claim ). I also should add that I am not an insurance representative, so what I am stating here is based on my understanding of how the system works.
For some events, I am asked to provide an insurance rider with the name of the host's facility or their name listed as part of my policy. You can print out a special rider noting their name if you use Philadelphia Insurance, as I do, but I am sure most carriers for fitness/yoga instructors offer this service.
Setting up a contract: If you're offered the opportunity to do something in an ongoing way, you may want to define the service in a contract. I recently wrote a blog post where I shared a sample contract. You can find that blog post here.
Mats and other equipment: I used to have about 10 mats that I lugged, with blocks, to events and classes. It just got to be too much and quite frankly, was not very sanitary. Any events I host these days I ask the students to bring what they need for practice or discuss it with the host before the class.
Pricing: How you price it is really up to you. I'd say $20 is the most you'd want to charge for a 90 minute class, $25 for something that is more in the 2 hour "bootcamp/special restorative/other" type class and $45 for  2 hour workshops that are more geared towards teachers and are more learning/teaching based    (and provide CEU's for Yoga Alliance).
Attendance: This is really only an issue if you feel the space is small and you have a high confidence level that you could sell out. If you are concerned about having too many people want to attend, include in your promotional materials that you have a limited number of spots so people need to sign up early. Keep a list in Excel of who signed up, if they paid ahead of time or will pay at the time of the event. I would suggest you keep it simple and take payment at the event.
Promotion: This is really where things can get tricky. This is also where you, as a teacher, need to be savvy about how you can 1) get the most people to your class 2)minimize your cost to promote it and hold it 3) take the most revenue home from the event.  There are a few companies that are now offering their websites and apps to yoga teachers as a way for students to follow teachers directly and attend classes they teach at either studios ( regular studio based classes) or one time events, workshops or trainings. These sites will help you market the event because they have their own following on the site and you may gain some new students by placing your event on their site. You will need to evaluate if using a service like this is more advantageous to you versus simply promoting it yourself. Between using your social media pages, your website (if you want to make teaching a career and even if teaching part time, it's great to have a website) and your own personal email list, that can be a very effective way to promote your event and it guarantees your students will know what you're doing and can decide if they can come. Let's face it: your best bet to getting a critical mass of people there is from people that ALREADY know you. It's less likely for someone who does not know you to join. It's also very hard to get people to come to one-off events that are not in studios because the reality is most of the classes that people attend are regular studio based classes. So, you need to look to your existing contacts to increase the attendance.
If you ask the local studio, from whom you're renting space if they will co-advertise it with you, they will want a cut of the revenue. This may be a good idea if it's a big studio ( big studio= big mailing list= lots of classes= regular clientele). It all depends on how much you're charging per head, what your expenses are and what they are asking for as their cut. You also have the choice to simply pay them a rental fee and promote it on your own, which I discussed above in terms of how you'd do that. In this case, you take all the revenue, minus your expenses.
Getting help: If you need help the day of the event or you need help creating promotional materials, I have found fantastic people on Task Rabbit.  You could hire someone for the 2 hours you are holding the event to swipe the credit cards. You could hire someone for the event to take promotional pictures. You could hire a graphic designer to make you a professional looking image to use in your social media marketing. Just remember,these costs have to be evaluated against what revenue you will bring in so use them wisely.
If you are interested in building your yoga business as an independent teacher, there is quite a lot to manage. My Yoga Teacher's Toolbox, available by clicking the link below, will get you started. It's a zip file with a Weekly Worksheet of Activities to organize your week and also my Business Dashboard, to help you start planning the activities that will drive your revenue:
Click Here to Get Your Yoga Teacher's Toolbox
If you have business questions, you can also reference my book "Stretched: Build Your Yoga Business, Grow Your Teaching Techniques." I go into great detail about the different steps necessary to understand in order to build your business as a yoga teacher.
Thanks for reading and if you have a comment, please leave it here!

// ]]>