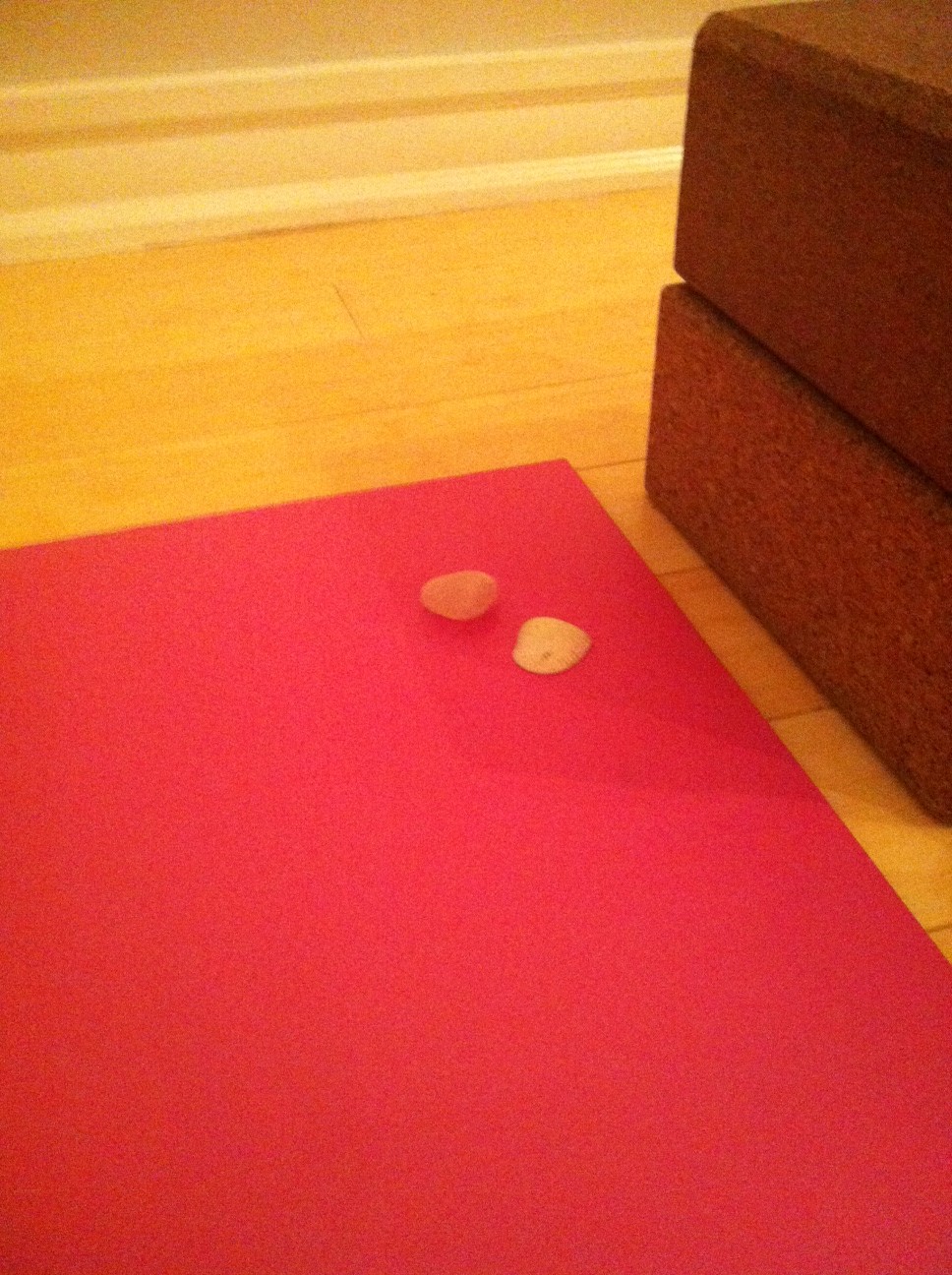 Regardless of how long you've been practicing yoga, there can be limiting beliefs that you'll face on the mat. Yoga practice is a physical one but it can push your buttons around body image, weight, self-esteem, self-confidence, physical capabilities, your life history, your habits and old injuries. These things can be overt or subtle but usually appear as fleeting or worse yet, loud insistent thoughts that intrude on your practice and can throw you off.
Here are five of those thoughts and five ways to re-shape them:
I'm too old to be doing this. Look at all these young people in here.
Yoga studios are filled with people of different ages. Depending on the community and classes offered, there can be a trend in one direction or another. On some level, it's wonderful that young people have found yoga. It's a wonderful way to build in healthy habits early in life. But it's understandable that for some people, fears about aging and sadness about changes in the body can be provoked when in classes with younger students.
This kind of thinking only prevents you from enjoying the practice and getting the benefit from it. One of the great things about yoga is that it can be practiced by people of different ages. On a practical level, if you have fears or concerns that are provoked by being in classes filled with younger people, look for classes that are geared towards older students or yoga communities where the mix of students provides a mix of ages in each class. But overall, the emphasis should be on you and what you can get from each practice.
One of the women that has been coming to my classes regularly, someone in her 60's, told me recently that she was out dancing and was asked to dance by a much younger man. She felt great in her body, confident and at ease while moving on the dance floor. She attributed this to her yoga practice. What a great attitude and story!
I'm afraid to go up into wheel. My shoulder will never hold out.
Old injuries can bring up a great deal of fear about our physical capabilities as well as anger and frustration about the healing capabilities of our bodies. Even when we are past the point of re-injury, we may look longingly at others coming into a particular pose and wish we had the guts to try it again.
One of the best indicators of your readiness to come into a pose or poses that require use of your previously injured body part or area of the body is how you feel using that part of the body in every day life. If you had surgery on your hip and you're wondering if it's ready for pigeon, think about how your hip feels during the activities of your life. If you hardly notice it, it's most likely ready for a test drive. If you're in pain on a regular basis, it may require more treatment first.
The other factor is to make a commitment to listening to your body as you try the pose again. The energy behind your practice will influence how you are in each pose. If you're silently competing with the person next to you or yourself, you'll push too hard. If you are filled with anger about your old injury, you won't be listening to your breath and signs that your body is trying to give you.
As you approach poses again after an injury, take your time. Modify the pose. Use the props that are necessary to create a solid foundation. Listen to your breath and be sure that it's smooth and steady. Learn to discern between pains in the body that are a signal of re-injury versus discomfort that's more about growth. Treat your body with respect and compassion and it will grow beyond your wildest dreams.
I used to be able to do that pose like that. Now I can only do it with a block.
One of the wonderful things about a yoga practice is that you can do it throughout your life. It can follow you through injury, pregnancy, changes in weight and changes in age. But as our practice shifts due to the shifts in our body, anger may come up about the way we used to do the pose. We have the memory of expressing the pose in a certain way but now we're unable to get there without a prop.
Why judge your expression of the pose as any more or less than any other expression? Is there more value to the pose if you use a prop or not? When we start to judge how we're doing the pose from a negative standpoint, it only blocks us from true expression. Notice the thoughts that arise on the mat where you're judging yourself and ask yourself instead, "How can I express this pose in the most authentic way possible?"
I barely fit in these yoga pants.

The yoga industry has become so commercialized it's easy to be swept up in superficial thoughts about how you look, what you're wearing and how many fancy accessories you have. This trend can easily shift our thinking to the external and away from the true qualities of a healthy yoga practice. For someone who has a tendency to judge his or her appearance, it's easy to judge yourself and feel badly about how you look.
Notice times on the mat where you're having these negative feelings. Be honest and determine if this is a trend in your life. Are you always talking down about yourself? Yoga practice can bring habitual negative thinking to the surface. Identify these things and look for ways to re-shape your thoughts.  
I haven't been here in so long. What's the point? 
I talked to a woman in class recently who looked so dejected before we even started class. She was someone I recognized from before and I said hello when she arrived. She started to tell me how she hadn't been there in a while and she wasn't sure how things would go and what she'd be able to do.
Along with yoga being a practice that can shift in shape and form as we change, it's also a practice that we can start from wherever we are. What does that mean? It means that you can only start from your own personal starting point at the time. If you've had a strong practice and life got in the way and you've fallen out of the habit, well, that's your starting point. If you've been on a roll, practicing regularly and you're back on the mat for the 3rd time this week, well, that's your starting point.
What does this mean? Work to be present. When we get on the mat and have thoughts of what was or what could be, we're not present. When we get on the mat and judge ourselves for our past mistakes or missteps, we're not in the moment. Once we really commit to that, a most amazing thing happens. We start to move, breathe and shift our focus form then to now and all of a sudden, we're moving from here to there.
There is so much to learn from a yoga practice. You may start thinking it's just about the physical but if you start going regularly and keep your eyes open, it's a wonderful way to positively change your thoughts and habits to be more positive and powerful.