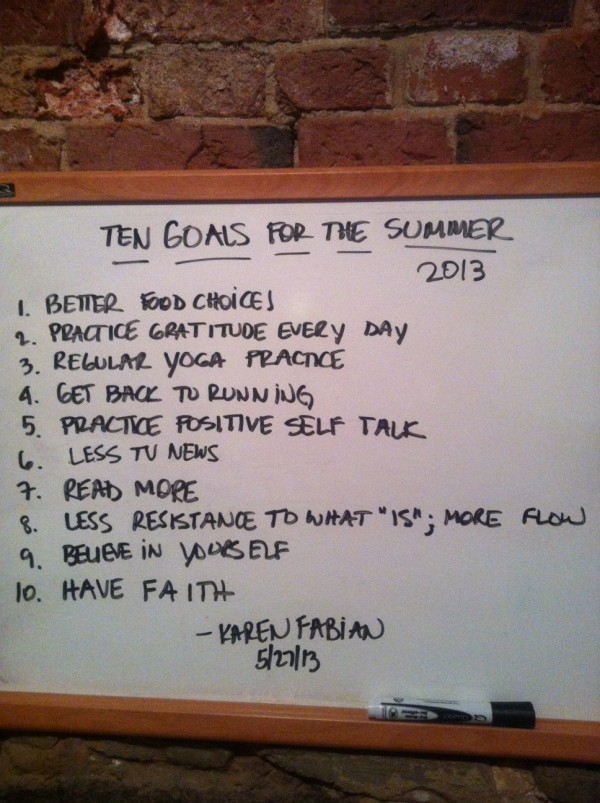 I set ten goals at the beginning of the summer. That was Memorial Day and now, we just passed July 4th. I decided to check back in and see how I was doing against the goals I had set. As you can see, some of them are more "attitudinal" goals, meaning they're "ways of being." Things like, "practice gratitude" "positive self-talk" "less resistance to what is" "believe in yourself" and "have faith." Others are specific things like "watch less TV news" "read more" "get back to running" "regular yoga practice" and "make better food choices."
Well, I'm sorry to say that things are not going so well. I'd say the attitude changes have been easier than then the action oriented goals. While I've been able to remind myself to "be grateful," I haven't had much success in re-connecting to a regular running routine. While I've been able to call on faith to help me through a challenging summer, business-wise, I haven't had much success with watching less TV and doing more yoga.
So, what am I to do? Throw in the towel? No way. I need to re-group. If you've ever fallen off track with your goals, you might find the following list helpful. Here are five things I plan on doing to get back on course:
Take a moment to assess why you've been unable to make progress. For me, I can share that getting back to running and yoga, on a regular basis, has been a matter of two things: scheduling the events (a run or a class) and committing to making them happen. Now that I understand that's the crux of the problem, I can come up with a solution. My personal plan of attack will be to plan the month ahead in regards to runs and practice and hard code those things into my schedule.
Set up weekly reminders as checkpoints against the goal(s). I have a hard copy printed daily checklist of things I need to do every week. I've added a section for "runs" and "practice" so I can check off when I've done 2 runs and 3 practices. This visual reminder will help me stay on track. This is what works for me. You could use reminders on your Smartphone or post-it notes on the bathroom mirror. It matters less what is it, just that you have a visual reminder.
Set out what you need to get the job done. I put my running shoes and clothes out the night before so I jump right into them in the morning. If you need particular things to get your goal back on track, take care of it at night. The camera you need to film your video, the mat and yoga clothes for that early class or the project supplies for your presentation- the better you prepare in advance, the greater chance you'll get things done.
Find a mentor or a friend with a shared goal. I decided this year to invest both time and money in a yoga mentorship with a teacher here in Boston, Ame Wren (www.amewren.com). Ame is great teacher and over the course of several sessions this summer I meet with not only Ame, but other teachers and guest presenters she invites to our session. Part of the mentorship requires I take regular classes with Ame, so that helps me towards my goal as well. If you find that you're getting off track, find a mentor or a friend who will partner with you. It can provide you the support you need to make it to the finish line.
Have compassion for yourself and give yourself a break. If you find you're off track, re-group productively without beating yourself up. That's a waste of time and energy. Do something compassionate for yourself; a cup of tea and something sweet or a call to a good friend to let it all out. Then move on and don't look back!
Setting goals and reaching them is a dynamic process, not static one. If we set goals and expect to achieve them without obstacles, we're setting ourselves up for failure. One of my wisest friends always reminds me, "It's not a straight line from A to B." Once I realized that, I was better able to move with the energy around me and get things accomplished with less stress.
Above all else, have faith!