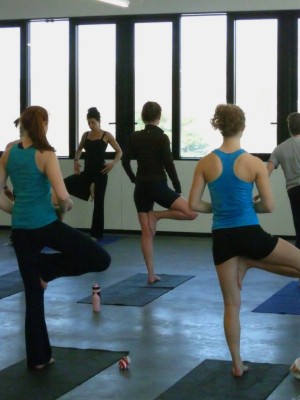 Once we start a yoga practice, we may begin to become more aware of our alignment in each pose. When we first start out, so much is new and there is much to coordinate: understanding the poses, the sequence, how to coordinate our effort so we don't leave exhausted but also build new strength and flexibility. There may be some poses that, despite our best efforts, always create frustration. Depending on the pose, it could be more or less of an issue but if it's a pose that's done regularly, it can be a non-stop source of irritation, both physical and mental.
There can be several different reasons behind this:
Understanding the anatomy behind the pose: You don't need to be an anatomy expert to practice yoga, but it is helpful to know some of the basic components of each pose. If I ask you to fold forward and your hamstrings are tight and I ask you to do it 20 times in a class ( or we take several folding forward variations), you'll be pretty uncomfortable. If I don't mention you can bend your knees and lift your sitting bones simultaneously to get more length in your spine and to relax your hamstrings a bit and you don't know to do this, things can get pretty frustrating pretty quickly.
Lack of understanding of the emphasis or direction of the pose: You can look at poses from the perspective of leverage. In each pose, standing or otherwise, we're using the foundation to create steadiness so we can move another part of the body in a different way. This will look different of course, depending on the pose but if there is a lack of understanding of the "direction" of the pose from a momentum perspective, it can be hard to figure out how to move the body. For instance, in Downward Facing Dog, the direction of the pose is "up and back" so the engaging of the core, rolling the inner thighs back and lengthening the arms and spine is all to move the body in that direction.
Unique attributes to the practitioner's body that make the pose challenging: If you come to practice and you have scoliosis, you may have a hard time doing some of the poses and feeling an even stretch in your back. If you have tight shoulders or hips or are working with an injury, you can be continually frustrated in certain poses. If you're not aware of ways to modify the pose so that it works for you, you'll be in a non-stop cycle of feeling like you don't understand how to do the pose.
You never really learned how to do the pose: Most people learn yoga by going to group classes. For many, that's the extent of their training in yoga and that may or may not be sufficient to help you learn the pose. Even asking a few questions after class is sometimes all that's needed to make the difference between suffering in a particular posture and enjoying it. One of the best steps to take is to attend a workshop or a private session(s) focused on learning the alignment for the poses, including the ones that are most challenging for you. In many cases, with a little customization and increased understanding, you'll see those poses become more accessible to you.
Learning how to use the concept of "integration" in every pose. One of the most important factors to consider in a yoga practice is the concept of "integration." When I say this I am referring to the idea that in every pose, while there may be a "prime mover" or a  muscle that creates the main action of the pose there is always a coordination of several muscles and actions that need to happen simultaneously in order to create strength, flexibility and comfort in the pose. A perfect example is Downward Facing Dog. If I am in Downward Dog and only focus on pushing my hips up and back and don't use my core muscles, triceps, the action of pressing my palms flat and rolling my inner thighs back, I will continue to feel like I'm sinking into my hands. So, to create the desired overall pose, I need to "integrate" all the movements at the same time and in a coordinated way so that there's just enough of each. I like to use the example of making spaghetti sauce from scratch. You need to add just enough of each thing: tomatoes, basil, onion, garlic, salt, pepper, sugar and red wine in order to get the right overall flavor for you. Being in a yoga pose is the same thing; you need to find the right amount of each ingredient ( in this case, "right action" ) in order to get the best overall "flavor" for you in the pose.
There are more factors to consider but as we know, the practice of yoga is a life long endeavor and one that changes as our lives and bodies change. The other overall factor to always keep in mind is that above all else, when we practice with presence and compassion, this fuels our practice with a focused intensity that allows for growth without injury (hopefully) and meditation without frustration.