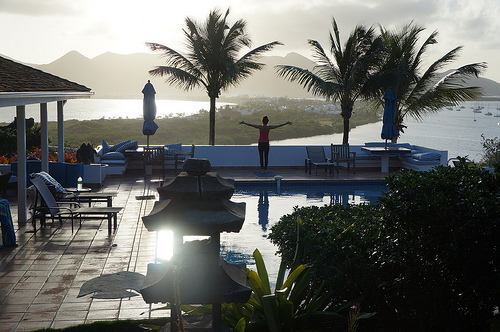 Back in 2002, I went on my first yoga retreat. It was a teacher training with Baron Baptiste and I can say it was one of the most influential events of my life. I went with no expectations and I came back with a ton of them. Not really a ton, per se, but let's just say that the trip re-shaped what I thought about myself and what I wanted to do with my life.
I can't speak for anyone else but I can say that for just about everyone I was with, we were all going through a lot of changes. I remember one of the biggest shifts for me at the training was the idea that I had found a wonderful way to blend all of what I loved and knew, both academically and career wise, in the practice of teaching yoga. This was something I did not expect to realize when I went but became crystal clear as the week went on. My background in Physical Therapy, Rehab Counseling, general medical school courses, my Master's in Health Care Administration, my work in a rehab center, for a health insurance company and as a Rehab Counselor all seemed to blend together through the modality of teaching yoga.
Because it was a teacher training, the focus was on just that: training. I had no time to relax, no time to read a book; it was "go go go" the whole time but I loved every minute. Over the years, I have had the chance to take additional trainings and assist teachers at trainings and every one has been just as wonderful as the other. But in my head, I have always wanted to run my own retreat and instead of focusing on training people to be teachers (something I do on a local level), I wanted to create a retreat that would give people time to invest in themselves as the primary goal ( this of course, happens too at a training, but the focus is on training primarily).
The feel of a yoga retreat versus a yoga training is quite different. You will have time to read. You will have time to sleep and decompress. You will practice twice a day and if you've ever gone on a yoga retreat, you know that's a recipe for shifting; be it on a physical level only or deeper. The other aspect I knew I had to include was proximity to the beach. I mean, walking distance. I've always lived on the east coast and my need and love for the beach was instilled in me as a child as I was taught to swim early and was in the ocean as soon as I could walk. The healing powers of the ocean are powerful and the combination of daily practice and ocean swimming make for a powerful elixir to soothe tired muscles, refresh the mind and help one feel connected to nature.
One of the other aspects of every retreat I've ever been on is daily group meditation. Not the "sit and do it alone" kind. The "get up and meet with everyone and be guided through" kind. There's something quite lovely about starting the day out with a sit, and if you've never tried it, the combination of going away and doing it for a few consecutive days just might convince you it's something you can't live without anymore.
My first retreats were before social media was as popular as it is now and thus, we were quite shielded from the world as we stretched and learned. Today, it's nearly impossible to break away from our connection to the interwebs but just the mere fact that you get on a plane and travel someplace else is an action and intention to break out of your current routine and start new ones. For so many, that disconnection is just what's needed to establish a RE-connection to oneself and through that, many things become more clear. People often go away and realize things about their career, their relationships, their eating habits, self-care, family and friends… there's really nothing that's off limits.
I am very excited to have partnered with Trip Tribe to offer my own special get away, for next May in Tulum, Mexico. I've been to Tulum for my first training so it has a special place in my heart. While I haven't been to the location of my retreat, Trip Tribe has been there quite a bit and they have done their due diligence to ensure it meets high standards. It's got all that I wished for: it's on the beach, the yoga room is close to the water so yoga is done to the sound of the ocean. There's local food onsite and dinner off site so you get the combination of being cared for as well as exploring.
The link is here below and I hope you take a moment to consider joining me for this very special event: 
Healthy Getaway: Yoga, Beach, Meditation, Fresh Food
If you are interested and you send me an email, I will send you a discount code you can use (but only through Tuesday) for a discount off the retreat.
Remember: invest in yourself and it will pay you back in spades.
I hope to see YOU in Mexico!
Namaste.
Karen