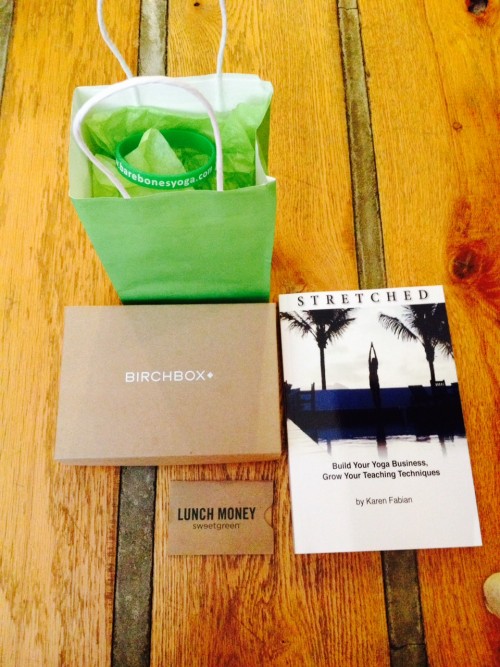 The past two weeks have been so much fun, sharing my book, "Stretched:Build Your Yoga Business, Grow Your Teaching Techniques" through two book release parties at Zume's Coffee House in Charlestown, MA and Athleta in Chestnut Hill, MA. Since some of you that read my blog and social media pages live outside of Boston, I thought I'd do something related to the book's release virtually; sort of a "virtual book release party!"
I have a few gifts to share and I thought since the name of my book is "Stretched: Build Your Yoga Business, Grow Your Teaching Techniques," I'd have a little contest. I also want to create something that could be of value to all of us that teach and practice yoga, so here is the pitch:
Share in a comment below one of your greatest learnings as a teacher and student of yoga. Focus on the theme of "Building Your Business" or "Growing Your Teaching Techniques." It could be something like, "I've learned that one of the best ways to grow my business is to look for corporate teaching gigs through my friends that work in Human Resources in companies in my area."  Or it could be something like, "One of the best ways I've grown my teaching techniques is by taking a few workshops on the anatomy of yoga. It's helped me provide more meaningful cues to students."
I've got 3 gift boxes full of fun cosmetics from Birchbox and one $20 gift certificate from Sweetgreen. If you live in DC or Boston, you know Sweetgreen. They have healthy and delicious salads and the most amazing atmosphere! If you've never heard of Birchbox, they are a start up by two women who wanted to create a way for women to try new and popular cosmetics, hair and skin products. For only $10 a month, they send you a gift box filled with surprises. I always love the day I get my Birchbox and often save them as gifts for my clients.
For reviews and to order my book, see here:http://www.amazon.com/Stretched-Build-Business-Teaching-Techniques/dp/1499701144/ref=sr_1_1?ie=UTF8&qid=1411825898&sr=8-1&keywords=stretched+karen+fabian
I'll give this post until Monday (my 50th birthday!) and then I'll pick 4 winners at random. Comment away!