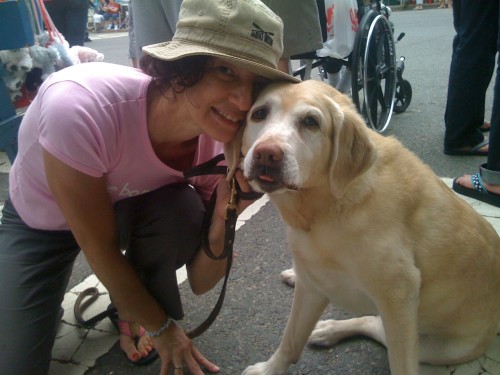 My condo is all packed up. Tonight is the last night in my place where I've lived for the past 13 years. I'm actually not even staying here tonight; there's no place to sleep. Ben is on his way over; we'll stay at his place tonight and come back bright and early to meet the movers.
There are a few things that I'll hand carry. My computer, personal papers and the two favorite toys of my sweet dog, Bailey Rose. Moving from this place became a reality when she died in January at 15 and half years old. I feel like I've shared more here with her than anyone else because she was with me as a young dog when we arrived and with me the whole time. As soon as she passed, I put the place on the market. It was time for me to move to a new space but I would never move her to a new place as she aged and started to live with the challenges of an older dog. When she passed on, I knew it was time.
Not having moved in 13 years, it's a strange feeling. I'm pretty organized so the actual process of moving doesn't throw me. But I'm a pretty sensitive and emotional person so the "meaning" of moving touches me more. Even as I write this, I can feel tears welling up in my eyes. I'm excited about moving; I love my new little (read: very very little) studio in a cute part of Back Bay (Boston). But it just feels like a big shift; a new place, new routines, neighbors and places to explore. I've lived in Boston for so long but never in that part of town. Living in a particular part of Boston is quite different than, let's say, shopping there. You pop in, you pop out. But when you live there, well, you start to really appreciate (or find the challenges) of a particular area.
I'm a creature of habit and I have a handful of local coffee shops (primarily) where I go to work and write when I'm not teaching. I think that's the scariest thing of all to me. Where will I go now? It sounds silly but honestly, that's on my mind. That and the idea of sleeping in a new space. What if it's noisy? What if the neighbors above me are loud? What if I can't sleep. Oh, that would just drive me crazy.
Times of transition happen only a handful of times in our lives. As I watched the news tonight, they were showing scenes from college graduations across the country. Young faces, full of promise, not knowing where they'll end up and with so much of their lives ahead. This transition for me is not really about that, but in a way, it is. It's very intentional, my move. And I've waited to make this shift for a few years now. But now that it's here, it's somewhat bittersweet.
As I pack Pink Piggy and Little Pink in my bag to take over to Ben's tonight, I feel like I'm closing the door on a huge part of my life. The things I've learned in this space, the heartache, the joy, the growing, the challenges, the hard, hard work, the tough decisions, the goals achieved, the failures, the laughter, the crying, the loss. These are all parts of life and the space where you live holds these memories in the bones of the structure that holds up your home. But the lessons, the wisdom, that all lives in you and me. In our hearts, close to our soul, where we can carry it forever.
Here's to my next chapter and hopefully, in my future, another dog will appear. Someday.