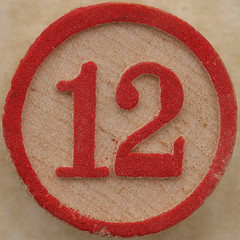 I'm a superstitious person and have lots of things I do for good luck. I make a wish when the clock strikes "11:11," I say, "Rabbit, Rabbit" on the first day of every month and a whole assortment of other things. I love that today is 12/12/12, as the repeating numbers gives me a feeling of good luck as well as positive energy.
So, leverage the positive energy of today and make 12 your lucky number. Here are 12 healthy things you can do for yourself today:
Eat well. We are what we eat, so today, set an intention to eat healthy. Less sugar, less processed food and more food in its' pure state.
Exercise. I started the day with a yoga class, teaching a group of people who got up and out at 6 am to take class at 6:30. It's not too late to make exercise a part of your day.  Plan now for how you will fit it in.
Take deep breathing breaks. This season is filled with stress for everyone as we try to get it all done. Take five minutes every few hours and stop what you're doing. Take 12 deep breaths. Notice how you feel. If you're not feeling well, try to make a connection between how you're feeling and what's happening in your life. Make a mental note about this connection; not to do anything about it now, but start to notice these trends.
Get outside. As the weather gets colder here in the Northeast, it's harder to spend time in nature. Take a brisk walk, park further away from your office or the grocery store or take the dog for a longer walk.
Reward yourself. Take a moment to reward yourself. It could be for living within your budget; exercising regularly, taking on a meditation practice, being honest with those you love. Even if you feel like you don't deserve it, do it anyway. It may be a simple thing, like eating a piece of chocolate, buying a flower or a book you want.
Intend to get a good night's sleep tonight. Decide now that you will go to bed at a decent hour and commit to a good night's sleep.  One of the best ways to boost your immune system is to sleep well.
Get your feet up.  A great way to relieve stress as well as flush the legs out is to elevate the legs. Try "Legs Up the Wall Pose," which involves pressing your hips against a wall and leaning the legs against it.
Laugh. Call a funny friend, watch an old movie or TV show bound to make you laugh. Laughing releases healthy hormones in your body and will give you an overall feeling of wellness and stress relief.
Speak from your heart. When we hold in how we truly feel, we can actually get sick. For anyone that has ever gone through difficult times and has held back from being truthful with those around them, you feel stress in the body and an unnatural feeling of holding back. If something is on your mind, speak to those involved and clear the air.
Be truthful with yourself. Just as it is important to be truthful with the ones around you, it's even more important to be truthful with yourself. If there is something or someone in your personal life that is causing you pain, take the steps to make changes. This can be a painful process but one that will give you greater health for the future.
Set 12 goals for the coming year. And start working on them now. Why wait until January 1 to get going on things that you want to do? If you want to start a yoga practice, eat better, write a book, save money, get going now. Use the last two weeks of December to get a head start. You'll feel great and you'll relieve the pressure many people feel when the New Year starts.
Write down 12 things for which you are grateful. This time of year, it's easy to think about what you don't have and what you can't buy for those you love for the holidays. It's easy to get caught up in the material aspect of the holidays. Quickly brainstorm on 12 things you are grateful for and carry the list with you. Refer to it regularly for a boost of positive energy.